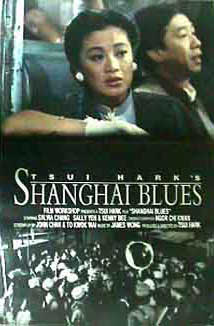 Since I arrived in
Hong
Kong on Monday the city has been under a constant gray drizzling sky that gives the place a drab drenched look as people scurry through the rain drops for cover. Still the
Hong
Kong International Film Festival is up and running with loads of films scheduled over the next two weeks or so. I am only here for a small helping of that - six days and about ten films. That isn't very ambitious admittedly but this time I wanted to have time to wander about and not feel as if I had to rush from one film to another. Last year I felt like it was a military campaign of logistics with strict timetables to set and meet. This year I abandoned the small confines of the Evergreen Hotel in Kowloon for a hotel in Fortress Hill. It's a much nicer place though I do almost miss being able to touch the opposite wall with my toes when lying in bed. In one of those near supernatural happenings, after checking in I decided to walk about the neighborhood without really having any idea in what direction I was headed - but after about 15 minutes I came across some familiar landmarks and realized that like a homing pigeon I had walked straight to the Starlight Photo Shop! Needless to say I looked to see if it still was in operation and found it immersed in just stuff everywhere - literally mounds of newspaper clippings and pictures just strewn about as if it was hit by a small hurricane. If a fire
Marshall
ever passed by he would shut this place down in a nanosecond - a spark could burn
Hong
Kong down. I did manage to wade through the piles on the floor and picked up loads of new pictures and have to go back for more. The place is a treasure even if a messy one.
Yesterday I went to see my first film -
Shanghai Blues
. In truth, if it weren't for this film I doubt if I would have made the trip as there really aren't many new films being shown here that get me excited. This one does though. It's the Big
Enchilada
. The Golden Sword. The Holy Grail of
Hong
Kong film. I've always wanted to see this on the big screen and it was worth coming for. It's
Tsui
Hark at his most sentimental and most playful with scene after scene of beautifully constructed controlled chaos. It plays mainly for laughs with Sally
Yeh
providing the slapstick comedy but just when
Tsui
has you laughing he throws in small moments of sublime poignancy. Someone told me that it was being released in the US on DVD. Can that be right? It still isn't out on a
HK
DVD. I hadn't seen this film in years and you always wonder if it will still live up to your memories - well this one did - as good as
film making
gets - straight to the heart.
Today I saw another oldie in the
Tsui
Hark/Workshop retrospective (shamefully the films have been given early afternoon time slots) -
A Better Tomorrow
. This film has been imitated and parodied so often that I worried that it would taste like stale bread - but it holds up remarkably well. This was the modern film that began the fetish of male bonding over bullets and blood and was a key work in the careers of Chow
Yun
Fat, Leslie
Cheung
and John Woo. It's overly operatic and often corny, but it works. It's not so much the action and violence anymore as it actually seems tame compared to what came after it - it's just the great presence and chemistry between the actors. Leslie is astonishingly innocent looking with his handsome puppy dog pouts and I would have to guess that many of the women in the audience were there for him.
Last night I saw a newer action film that was more polished in its technique than
A Better Tomorrow
ever was - but it lacked its emotional impact because the three main characters were so hollow and uninteresting. This was
The Sniper
from director Dante Lam. It has gained lots of publicity for all the wrong reasons - the presence of Edison Chen. The film was in the can a year ago but events forced it to be held back till now. It's great seeing Edison in front of the camera again but unfortunately he wasn't co-starring with Gillian or Cecilia. He was so much more expressive in those home movies. Here he is your basic block of wood with literally one look of petulance on his face the entire film as if some starlet refused to be photographed naked by him. He isn't the main character though - that falls to Richie
Ren
whose fans were out in force last night. He plays a stiff lipped police sniper commander who takes Edison under his wing to train. A former colleague has just been released from prison with a major gripe and he wants revenge and to show that he is the best. The film is fast paced but predictable and not nearly as tense as one might expect. This may be caused by the fact that you don't have a rooting interest in any of the characters or in their fates.
Now that wasn't the case with Dante Lam's
Beast Stalker
which I caught today - in this one he does everything right. Similar to
The Sniper
it is primarily a deadly cat and mouse game between two men - one on the side of the law (Nicholas
Tse
) and one on the other side (Nick
Cheung
). A child is kidnapped to force the mother who is prosecuting a criminal case to destroy evidence.
Cheung
is the kidnapper and
Tse
is out to find the girl. It is much more though than a simple police chase - it is an interlocking story of colliding fates that leads to tragedy all around. All the characters are well-drawn and well rendered by the actors and because of this the story becomes totally gripping. This is one of the best new films I have seen from
Hong
Kong for a while.