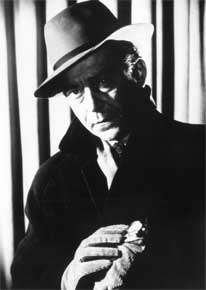 I haven't watched any Asian films lately so
here
are ten more Hong Kong posters from that calendar I picked up. The thing that fascinates me about these posters from the 1950's/1960's is how it indicates just how varied Hong Kong film was back then. I have been of a mind set of late that films from that period and before (from any film industry) were just so much more interesting than what is coming out today.
Speaking of which – here is a head's up to any New Yorkers that
Film Forum
has a month long series of French Noir Crime films going on. Both John Woo and Johnny To have mentioned how influenced they were by these films – in particular those from director Jean-Paul Melville and the series has four of his films –
Bob Le Flambeur
,
Le Doulos
,
Le Cercle Rouge
and
Un Flic
. Oddly, they don't have Melville's
Le Samourai
, but they probably felt it was overplayed. I recall seeing
Bob Le Flambeur
a number of years back and was just blown away by it. The only film in the series I have caught so far is
Rififi
(translated in the film to "rough and tumble" in a nightclub song). This is considered a milestone in French noir, but interestingly the director Jules Dassin was actually an American who had been forced out of the country during the McCarthy period when he was blacklisted and not allowed to work. He brought along his experience in American noir with
Brute Force
and
Naked City
and made one of the best heist films ever in
Rififi
. It was one of those films I had always meant to see but never had and was so glad I finally did.
I also finally dug into my pile of Ernst Lubitsch DVDs to watch. I decided to read his biography along with watching films and so it took me a while to get up to one of his films that I had a DVD of! Lubitsch was born in Berlin in 1892 and instead of joining his father in his tailoring business, he discovered a love for the theater. As an actor he appeared in numerous plays often in comedic roles. He eventually made the transition to film (which paid much more) first as an actor and then as a director in 1914. Because his father was of Russian birth, Lubitsch was fortunate enough not to be able to join the army during WWI and instead continued making films at home that were generally light comedies but also in some cases historical dramas.
The film I watched was
I Don't Want To Be a Man
(1920) which already indicated his light touch and his interest in sexual politics that became much more refined over the years. The plot here made me think of Hong Kong's
He's a Woman, She's a Man
(which weirdly I just noticed I compared to Lubitsch in my long ago review) with its cross-dressing romance – though my guess is Peter Chan never saw this film! In this one a young woman named Ossi finds the rules of behavior for her sex to be much too constricting and that her new Governor to be more of a disciplinarian than she can take. So she has a man's suit made for her and goes out on the town dressed as a male. At a nightclub she runs into her Governor and the two get decidedly drunk – and begin trading heavy kisses. Later he realizes that his new friend is not only a woman but the girl he is supposed to look after. He says to her "
And you allowed yourself to be kissed by me
", to which she replies "
Well, didn't you like the taste!
" At which point they fall into an embrace and she declares that "
I don't want to be a man
". No mention of the peculiar fact that he thought he was kissing a man, but Germany was far ahead of the US at that point in portraying homosexuality in film. The author of
Ernst Lubitsch: Laughter in Paradise
mentions another film made in 1919 titled
Different from the Others
that is about a gay man and the men he loves and loses.
Finally a few of you asked for me to put up some more pictures that my father took many years ago. We lived in Afghanistan from 1967 to 1971 and I have very fond memories of the place and the people. Two years after we left the King was overthrown in a coup and the country began its long descent into a hell that it is still stuck in. My father traveled around the country and took a lot of pictures of people and for me it's very hard to look at them and not wonder what their fate was and whether they managed to stay alive in all the horrors that followed. Anyway,
here
are some 50 portraits of a people before they entered hell.