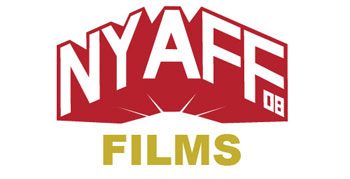 It's been a week since the NYAFF came to a close and I finally had the energy and ambition to pop my head into the sun today and see if the world was still there. In fact, I went over to the Japan Society for their final day of Japan Cuts and happily watched Sakuran and A Gentle Breeze in the Village. It was rather nice being able to just sit and watch a film without a worry on my mind. I enjoyed both films as well – Sakuran is mounds of colorful style that easily overcomes a fairly generic plot about a young girl sold to a Geisha house who swears to become the top of the hit parade. The colors just pop off the screen and the modernistic music is a pleasure to listen to. When I had heard way back that Anna Tsuchiya (Kamikaze Girls) had been cast as the spunky Geisha it sounded like an odd choice but the film isn't really trying to be authentic – its pop sensibilities are very contemporary and she fits the role perfectly. I had seen Gentle Breeze on a screener before but I liked it even more on the big screen. As the title implies it is a gentle, lyrical and very affectionate look at life and friendships in tiny town Japan. Directed by Nobuhiro Yamashita of Linda, Linda, Linda fame he shows once again that he can find substance and understated emotion in a story in which the plot means much less than the mood and the characters who inhabit his world. Like Linda it is full of small scenes that don't add up to much on their own but have a cumulative effect that leaves you happily misty eyed by the end.

So I should report that NYAFF 08 was a success for the most part – at least successful enough to likely ensure that there will be a NYAFF 09 unless we all come to our senses. Sometimes it feels like doing this for seven years is enough – but at the same time who else is going to bring these films to New York City? And it's the only way I can think of to watch loads of near impossible to see Asian films for free! Really, all you Asian film fans out there should start your own festival if you want to see films – as long as you aren't living in NYC! At the same time I am beginning to think that Asian film popularity in the US peaked a couple of years ago – I see it in our numbers, the lack of chatter on the Internet and the fact that a few Asian focused DVD distributors have gone belly up recently. Basically the only films we can guarantee to do well box office wise are Japanese films and Johnny To films – and Johnny doesn't make enough films each year for us to fill up our schedule! If only. It almost killed me that my least liked film in the festival Dainipponjin sold out twice and the two King Naresuan films cried out for a bigger audience. I had my doubts that an American audience would come to see an epic six-hour Thai historical film, but I certainly thought NYC would have a lot more adventurous film goers than turned out. Kind of sad really because these are two of the best films I have seen in years and the people who came almost gave them all 9's and 10's on the ballot. On the other hand I hadn't expected much of an audience for the quiet Love on Sunday films and I was right but it was really nice that more than a few people came up to me later in the fest and thanked me for bringing them to the festival.

I only had a chance to sit in and watch seven films – the King N. and Love on Sunday films just because I liked them so much – but I also finally saw three movies that I never got around to before – Mad Detective, Sparrow and Kala – and what do you know – my Subway comrades choose some good films without my help! Mad Detective is perhaps a bit outlandish but it is such pure To style that I fell in love with it and seeing Lau Ching-wan in a topnotch To film again made my toes tingle with joy. On the other hand I wasn't as crazy about Sparrow as other folks who came out after the first screening raving about it. Perhaps that set my expectations too high – because though I liked it a lot I never quite bought into the mood that To was trying to set – it just felt a bit too frothy and forced to me – but it's a film I really want to see again on DVD because in truth I am not sure I really understood everything that took place. I loved Kala – setting a film noir in Indonesia with supernatural touches was just classical to me on many levels. The locales, shadows and camera angles are right out of Maltese Falcon with a little Death Note thrown in. I'd love to see more films like this coming out of Indonesia.

By the way, this year we had our first Jury Award for Best Film and a few other awards that the jury came up with themselves. The jury consisted of five individuals who are either film critics, film authorities or film makers. This is what they decided on.

Winner - New York Asian Film Festival Grand Prize

SAD VACATION directed by Shinji Aoyama


Honorable Mention for Best Ensemble Cast

SPARROW
STRAWBERRY SHORTCAKES

Best Visual Achievement

Lee Myung-Se for M
Joko Anwar for KALA


Outstanding Achievement

Koji Wakamatsu for UNITED RED ARMY

Best Debut Feature

Ryo Nakajima for THIS WORLD OF OURS

We also had our usual Audience Award and it's interesting to note how little intersection there is with the most popular films with the audience and those the jury picked. This year we are announcing the Top Five films out of the 43 films we showed. It was an extremely tight race with the winner just barely nudging out the 2nd and 3rd film.

1. Fine Totally Fine (my prediction in March when I saw this at HKIFF)
2. Always 2
3. King Naresuan 2
4. Public Enemy Returns
5. Sparrow

I should mention that we showed Always 1 as well just for those folks who missed it two years ago when it won our Audience Award. It wasn't eligible this year but we accidentally gave out ballots and collected them – so out of curiosity I tallied them up – and guess what? It would have won again!

I don't think I will be updating this Blog too much in the near future though you never know. I am pretty much Asian filmed-out and have been really wanting to watch some dozen Lubitsch films that I picked up recently. I watched To Be or Not to Be with Carole Lombard and thought why can't Hollywood write smart witty sharp dialogue like that any more?

Thanks to all of you who showed up at NYAFF!