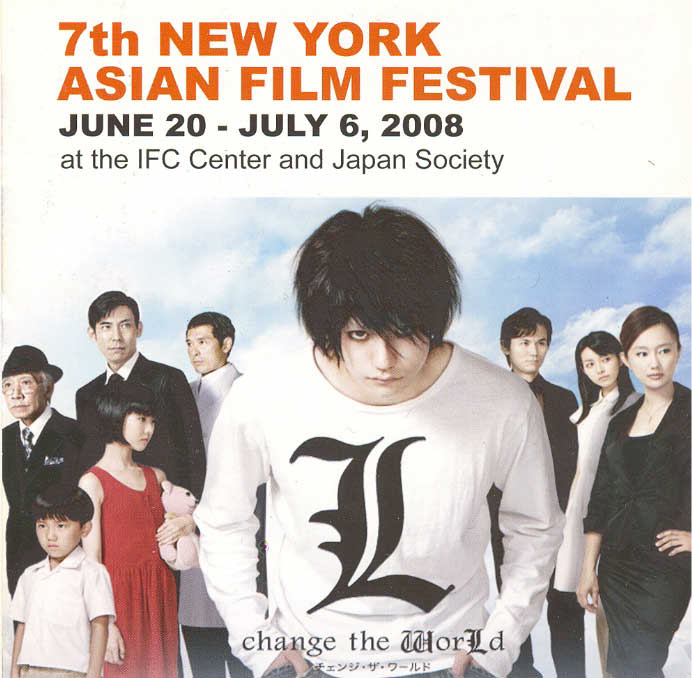 After a month's disappearing act, I thought it was time to write something up for this blog even if it was only to say that I don't really have much to say! Since recently returning from a few months away in Asia I just haven't had any time to write anything up – and besides that I have had the energy and motivation of low lying bacteria stuck in sludge. But here are some rambling random thoughts about some of the films we looked at for the New York Asian Film Festival this year. First, I need to say that it will be our greatest line-up ever – so buy lots of tickets. And that is completely objective!

Because of being away so much these past six months I wasn't able to be as involved in the festival programming as in previous years and that alone should improve this year's line-up considerably! But once I got back my colleagues did a Clockwork Orange on me by putting me in front of a television with my eyes propped open and forcing me to watch screeners until my eyes bled and I foamed at the mouth. I got occasional bathroom breaks but was allowed to only eat cold canned macaroni. That wasn't the worst part though – the bad films were. I had to sit through films so inept and boring that I am sure my life force has diminished considerably. Unfortunately, I can't tell you which films to avoid like a bad skin rash because there is sort of a silent agreement between film distributors and festival programmers not to go public with the criticism of their films. It's just not considered good manners and of course it may come back to haunt you if they hear about it. But I will say that a lot of the stinkers were from Korea!

For those of us who were so excited to discover Korean cinema a few years back (Subway Cinema held one of the first festivals to solely focus on contemporary Korean films in 2001) it is hard to fathom how an industry has sunk into such a creative black hole so quickly. So many of the Korean films I have seen this year felt like a cookie cutter echo of some past good film. Bad scripts, unimaginative ideas, formulaic plots, pitiful melodrama and over acting make the films a chore to sit through. It's as if their entire industry has lost its courage - but these things tend to go in cycles and I have no doubt that Korean films will come back with a bang within a few years. Still we have some good ones, saw but couldn't book some other solid ones and are still looking for more!

So let me make mention of some of the good films I have come across and not blogged about previously – some we may show in the festival but many we won't be able to because life isn't always fair. In fact, I just finished watching a low budget Japanese sci-fi genre film that was fun if not prime "A" meat. It is called The Chasing World directed by Issei Shibata. In it a large number of people with the surname Sato are mysteriously dying throughout Japan from freak accidents or unexplained suicides. Even though Sato is Tsubasa's last name he has other worries on his mind – like getting away from some Yakuza who are chasing him all over Tokyo. Then just as he is about to get a pummeling he is suddenly transported to a parallel universe where the King of Japan is determined to kill all the Sato's and wouldn't you know it – if a person dies in one world, his double dies in the other. As if staying alive in one world isn't enough to worry about. The King has his masked killers running down Sato's all over and Tsubasa is soon running for his life – and that of his young sister's – in both worlds.

For those who loved Always Sunset on Third Street, the chances are that you will like its sequel. Always 2 takes up right where the first one ended with the same lovable characters still living in the old neighborhood that is under the shadow of the newly built Tokyo Tower. The unkempt hack writer, Ryunosuke, is still in possession of the young boy, Junnosuke, and is pining for his love Hiromi, who is now working in a disreputable business to pay off her father's loan. He thinks he can solve all of their problems by winning a book award with its sizable monetary prize and the whole neighborhood pitches in to help him. It hits all the same sweet sentimental notes as the first – beginning with a comic homage to Godzilla and ending up just where you want it to.

Japan had a good year with many charming or thoughtful films coming out of their mid-sized production companies. A perfect example of this is Adrift in Tokyo starring Joe Odagiri. It is one of those films that just slowly creeps up on you and wins you over with its straight-faced quirky charm. Odagiri plays a student slacker deeply in debt who has a tough looking collector constantly on his heels. One night though the collector offers him a deal seemingly too good to refuse – walk with him around Tokyo for a few days and he will pay off his debt. And that's exactly what takes place as this disparate duo trek around the city talking, eating, bonding and meeting new people and old acquaintances. It is a sly comical rambling journey that gathers surprising poignancy as the end approaches. And playing in the background all the time are the jumbled streets and oddball denizens that make Tokyo so special.

As different from Adrift in Tokyo as one could imagine is the political and absorbing United Red Army. This is the sort of serious film that I would usually avoid if at all possible, but there was no getting out of this. And much to my surprise it turned out to be an absolutely fascinating examination of a highly controversial aspect of Japanese history – the rise and collapse of the radical leftist movement in Japan during the 1960's and the 70's. Directed by Wakamatsu Koji, legendary for his leftist politics and experimental pink films (Ecstasy of Angels, Go Go Second Time Virgin) he creates a sympathetic but very critical record of the radical movement through a mix of documentary and recreated scenes that takes them from their idealistic beginnings to their violent self-destructive finale. When the members begin to eat their own through self-criticism and group torture, it was all I could do to keep breathing. Just an amazing piece of work – and around three hours as well. So you get your money's worth!

Thinking about United Red Army made me realize that our festival this year has an unusual mix for us of commercial, cult and serious films. We tend to perhaps go over board for cult like films filled with aliens, zombies, exploding heads, severed arms, schoolgirls in short skirts and running kicks – now I am sure that we will still have some of that but we have also included fare like URA, another highly controversial Japanese documentary called Yasukuni (about the politics surrounding the shrine) that was practically not allowed to be shown in Japan for fear of the anger it would create, the two historical epic Thai films, King Naresuan I and II (I am so excited about getting these two!) and a small Japanese film called This World of Ours made by a twenty-three year old director for around $25,000. If this continues people might worry that we are growing up!

The disaffected youth film is practically a genre in Japan though they come in various forms from the absurdly comic (Cromartie High School) to bleak nihilism (Blue Spring). Along with the many dysfunctional family films (Hanging Gardens, Antenna, Visitor Q), one has to wonder what is going on with the family unit in Japan. This World of Ours leans towards the nihilistic corner of this genre but feels surprisingly fresh and edgy as it tracks the disintegrating lives of three teenagers over the course of a few days. It packs a big punch for such a small package and has won all sorts of awards.

By now it might sound like most of the good films came from Japan since our last festival and I'd have to say there is some truth to that – or perhaps it is better to say that they at least appealed to us more with their unique plots and looser structure. The Japanese mid-sized production companies seem willing to take chances and also are able to live on the proceeds of their lucrative video business. Korea on the other hand has no such profitable video/dvd ancillary business and so films need to survive on box office and international sales. This makes it extremely difficult for mid-range films to make any money and makes the companies very unwilling to take chances on anything but proven mainstream formulas - i.e. romantic comedies and gangster films. Hong Kong had some good films but they almost always seem to somehow be associated with Johnny To! Without him one has to wonder where Hong Kong film would be these days. China – well China is still something of a black hole for us – they apparently make over 200 films a year but I have no idea what happens to most of them. The ones that get into film festivals tend to be bleak social affairs that make you feel good for having stayed awake throughout. With the new censorship laws passed regarding subject matter – no explicit sex, no fear provoking elements, no nudity, no prostitution, no horror, no supernatural, no violence, no distortion of Chinese history and on and on - my guess is that Chinese films certainly aren't going to get much more entertaining for some years!

So here are just a couple other Japanese films I want to make quick mention of though the chances of them showing up in the festival are small (but you never know!). Strawberry Shortcakes received some raves on Midnight Eye and it definitely lived up to those words of praise. I mistakenly went in thinking the film was going to be another female pop bonding story (which I love by the way), but I had to make a quick adjustment. It cuts sharply into the lives of four young single women in Tokyo and leaves their lonely rather sad lives open and raw. It wasn't what I was expecting but it left its mark on me. A Gentle Breeze in the Village is a very different affair. From the director of Linda, Linda Linda, it is a whimsical, charming sleepy-eyed tale of a few children in a small rural village that seems on the edge of extinction. It is full of lyrical old fashioned amusing moments that may not in truth form much of a plot – but that's not really the point here – it is about creating a mood and a loving sense of the everyday. We won't be showing this but our friends at Japan Society will be including it in their Japan Cuts program that immediately follows our festival. Catch it if you can.

And finally here are three recent films from one of my favorite directors, Ryuichi Hiroki. For reasons that I can't quite put my finger on, his films strike a visceral emotional chord in me. They deal with relationships, intimacy and friendship in a very natural though often painful manner – his characters always feel like real people in the midst of real life and as a viewer I find it very hard to distance myself from them. There is very little overt drama in his films and often the narratives are almost circular in nature – but beneath the surface there is so much going on with his characters that is more often shown in expressions rather than words. Hiroki revels in the still quiet sad moments. His films tend to not be very commercial as they either corrosively dissect human frailty (Vibrator, It's Only Talk, M, Amant L) or gently probe youthful relationships (Girlfriend and these three films - Love on Sunday, Love on Sunday 2 and Your Friends). Hiroki made the Love on Sunday films as part of a series of films called "Break Through Films" sponsored by a satellite channel. The first one is teenage torment as a girl wants to tell her long time male friend that she loves him before she moves away the next day – but is unable to and watches him come on to another girl. The second film is sadder and deeper as it traverses around the edges of melodrama but never dives in. A young woman discovers that she has cancer and only has a few months to live – and so decides to visit the town where she grew up and to look up her first crush. It is underplayed to painful perfection as her illness only lurks in the background as she grapples with her feelings and her fate. Your Friends is quiet detached catharsis. It poignantly reflects on friendship and memories. Emi and Yuke become friends when they are children – one has a bum leg, the other a bum kidney – because as one explains they both walked at the same slow pace. In flashbacks, their friendship is traced over a period of five years and beyond and Hiroki is able with minimal strokes to pull us from a distance (literally and figuratively) into their circle of friendship and make us deeply care about them. It never panders to the audience but manages to be very touching and make you think about the friends that made up your life as you grew up.

So that's it for now. We have a solid portion of our program in place but like the Marines we are always looking for a few more good films.
In case you haven't seen any of the PR yet - here are some of the other films we will be showing.
Accuracy of Death from Japan and starring a HK favorite, Takeshi Kaneshiro.
L: Change the World - the sequel to the Death Note films
Assembly - a big epic powerful Chinese war film and what happens afterwards
Sukiyaki Western Django - Miike at his Spaghetti Western weirdest
Mad Detective - yay - Lau Ching-wan back with Johnny To!
Dainipponjin - the sad state of super heroes in Japan
M - from our favorite Korean director, Lee Myung-se - Nowhere to Hide is still a fave of mine
The Rebel - kick ass action from Vietnam as they fight the imperialistic French swine.
Kala - noir from Indonesia - who would have thought? Cool film.
Fine, Total, Fine - my favorite film that I saw at the HKIFF - as funny as funny can be
Sparrow - more Johnny To - honestly I haven't even seen this yet! But it has to be good!
The Butcher - ditto - was in Asia when Subway grabbed this indie Korean film - suppose to be quite bloody and disgusting!
Sad Vacation - geez - another smart serious film from Aoyama Shinji - is Subway Cinema going through a midlife crisis?
Dog in a Sidecar - from Japan but I haven't a clue what it is about! I have turned into a total slacker.
That's all for now but lots more coming. Hopefully. Or we will have a lot of dark nights at the festival!