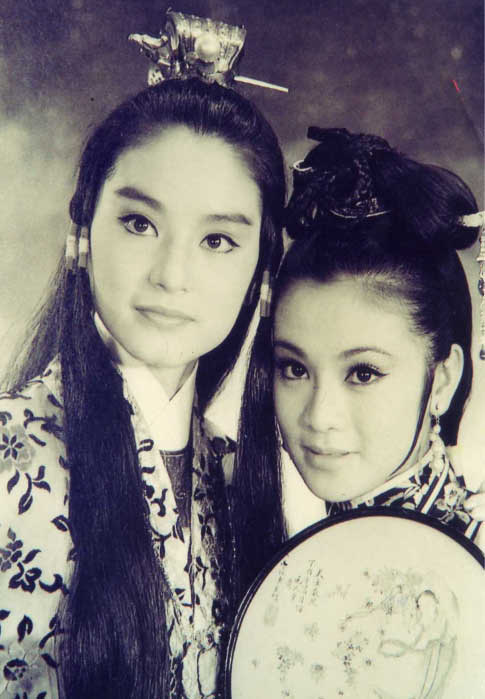 Currently Thailand is hosting the
5th World Film Festival of Bangkok
and as part of that there is a tribute to Taiwanese actress and director Sylvia Chang. They are showing six of her films in which she appeared or directed and last night I had the pleasure of catching the Shaw Brothers film
Dream of the Red Chamber
on the big screen. I am not really a fan of the
Huangmei Opera films
, but I love this one with its lush ornate sets, melodic tunes and gut crunching emotions. Oh, and it also stars Brigitte Lin and Sylvia Chang. Ok - that is mainly why I love this film. This was the only Shaw film that either of them ever appeared in and in their pristine youth they dazzle in their close-ups. I have occasionally thought what a shame it was that the Shaws didn't sign Brigitte up after her success in Taiwan in the early 70's – she would have been a perfect successor to Lily Ho after she retired in 1974 - think of the great films she might have appeared in. The print has not been restored but for the most part it was in excellent condition and they claimed that this film has not been shown since its release in 1977 but I am not sure about that.
But of course the big thrill for me was that Sylvia was in attendance
looking absolutely radiant
and still adorable in her fifties. I came to Sylvia a bit later than I did some of my other favorite Hong Kong actresses as she rarely appeared in action films which were what I devoured when I first discovered Hong Kong cinema back in the mid-90's. Later on though I delved into other genres and first came across this elfin cutie as the beleaguered and set upon third leg in the
Aces Go Places
series – a quick witted foil to Sam Hui and Karl Maka. Other films were to follow and I began to realize what a fine actress she was as she easily shuttled between comedy and drama – and she is in two of my favorite Hong Kong romances -
8 Taels of Gold
where she teams up improbably with Sammo Hung to create a poignant and bittersweet drama of unrequited love and of course the magnificent
Shanghai Blues
.
In her Q&A she mentioned that very early on she became curious about the workings of film behind the camera and grew increasingly interested in writing and directing. Her first directing gig,
Once Upon a Time
, was in 1981 at the age of 28 but I have never had the chance to see it. But she didn't really hit her stride as a director until the late 1990's with
Tempting Heart
,
Princess D
and
20:30:40
.
At an early point in the film the print broke down but this turned out to be a good thing because it gave director Yonfan (
Last Romance
,
Bishonen
,
Peony Pavilion
,
Colour Blossoms
) who has come with Sylvia an opportunity to talk about the film. He mentioned that this was Sylvia's first chance to see the movie on screen because as soon as the shoot was over she had to go to Korea for a year to work on King Hu's
Legend of the Mountain
and its run was over by the time she returned. When asked why the Shaw's chose these two actresses who were not part of their studio stable Yonfan just gushed that it was because they were the two most beautiful and popular actresses around at the time – a point I certainly question regarding Sylvia who had only made a handful of films at this point – it wasn't really until
Aces
before she became a popular actress. In her Q&A Sylvia confirmed something that I had read about the film – that initially she was suppose to be cast as the male figure and Brigitte as the female but right before shooting began the director Li Han-hsiang changed his mind and threw Sylvia into a bit of a panic. The final scenes of her crying for her love took eleven days to film and her eyes became so swollen that she had to go to an eye doctor. More oddly she said that the director had offered the actresses the chance to sing themselves – probably a good thing they declined – though Sylvia actually has a good singing voice and has released a few CDs – one that I picked up and quite enjoyed until it went bad on me.
She was as one would expect completely gracious and stuck around for autographs and chitchat. In one of those strange co-incidences I had come across the picture above in Hong Kong a few weeks back in a little open air shop below Hollywood Road and had bought it – so I got my first autograph since I was about ten years old collecting signatures of baseball players. Now I just need to get Brigitte to autograph it as well some day!
Today I went to see
20:30:40
and realized that I had forgotten how much I liked this tale of relationships at various stages of life and that even though the nature of relationships change as one gets older they never get any easier. Much to my surprise she and Yonfan did an introduction and then sat through it – but no Q&A.
The other films being shown in this tribute are:
Tempting Heart
Forever and Ever
In Between (co-directed by Yonfan)
Siao Yu
Btw – here is another
picture
of the Ninja Vending Machine that I scanned in.