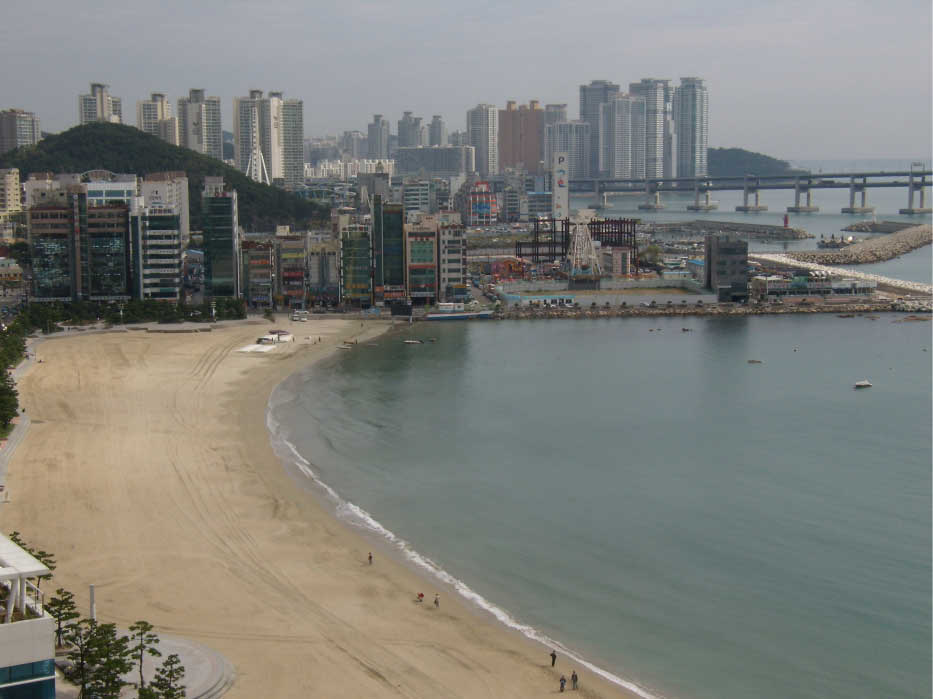 The fest is over and I am sitting in the Hong Kong airport waiting for a plane. This was my first trip to the Pusan International Film Festival and to Korea as well. I have to admit to coming away with more impressions of the festival than I do of the country. When you watch some 12 films over 4 days it doesn't really leave you much time to explore the surroundings. Next time I will definitely leave myself more of an opportunity to look around. Certainly everything was very positive - easy to get around - took the train back to Seoul to at least see a little of the countryside - everyone was very nice and I even ate a fair amount of the local food (and I admit that Korean is far from my favorite). Eating the food is a bit of a culinary experience. I went with a Korean friend to dinner and she spoke one sentence to the waitress and so I was a bit surprised when some 25 side dishes landed on our table. She must have just told her - bring everything - let's see what he will eat! I had no idea what any of these dishes were but most were actually pretty good and spicy. One other snap impression of Korea is that it is not a real bargain if you have US dollars - the dollar has fallen here like a wayward lady and people kind of look down on it now. Thank you George Bush.
I came away with a lot of impressions of the festival though - all of them good. Just the size of it is mind boggling for someone who helps put on a small festival every year. There are of course loads of films - but also many special events, seminars, parties, the film market, celebrations, celebrities and so forth. I heard that the festival hires some 200 people to make it work - some for the entire year and many others for a few months - and they work insane hours. My friend who was hired for two months worked an average of about 16 hours a day and would often have meetings at midnight. I think I will try and keep our festival nice and small! It all works like clockwork though and the hundreds of volunteers are everywhere to help you out - and some incredibly cute ones I have to say! On my last day I discovered the video room - where if you have a market pass you can sit in a booth and watch on dvd any film in the festival. If I had heard about this earlier I would have been stuck there like gum for the entire fest because there were still so many films I didn't get to see that I wanted to. I also met some really nice folks - the Variety reviewers Derek Elley and Russell Edwards, Mark Schilling who has a new book coming out on Nikkatsu action films that I got a copy of, Stephen Cremins from the Udine Festival and a bunch more - all of them very passionate about film and great to talk to.
Over the next whatever days I will endeavor to get up short reviews of all the films I watched over the last couple days - here are in theory the ones coming up - 881 (Singapore), Mukhsin (Malaysia), Funuke Show Some Love You Losers (Japan), Kamen Masked Rider: The Next (Japan), Asyl (Japan), Dai Nipponjai (Japan), Shadows in the Palace (Korea), My DNA Says I Love You (Taiwan) and Sukiyaki Western Django (Japan).
In the meantime, I wanted to fullfill two past promises:
A link to YTSL's
magazine piece
on the great Photo Shop Man in Hong Kong.
and some
pictures
I took of the Walk of Stars in Hong Kong with a few of those exciting hand prints!