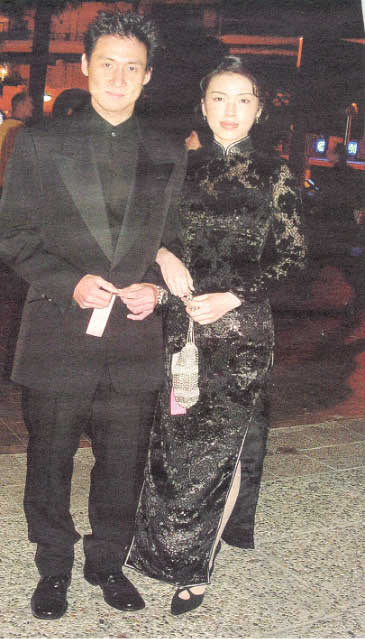 I am back in Hong Kong like a wounded cat. I am not sure what that means but I just like the sound of it. There wasn't much going on in Thailand that was Asian film related so the blog remained dormant for a few weeks - but now that I am here it is time to wake it up for a while. I did have the misfortune to see
Rogue Asssassin
while there and am beginning to be sorry that Jet didn't keep his vow to do no more action films. This was so depressing to watch - a monotone impersonal performance from Jet with loads of tedious (what's going on Corey Yuen?) and very violent scenes in which he kills people and then allows a slight smile to crawl on to his face like he just let off a silent fart in a crowd. His
commercial
for San Miguel beer is mildly more entertaining and his smiling face pushing beer is all over the city. All I can figure is that Nina Li is costing him a bundle to maintain.
Now I did have a HK film related dream, but not sure if that counts as seeing a HK movie but it sure was a cool one. I don't think I have ever had a dream with HK actors in it before so I recall it with some sharpness. In it Subway Cinema is putting on a tribute to the HK Girls with Guns genre - but instead of showing movies on the screen we were having them reenacted by the actresses on the stage (how I can't imagine!) - in this case with Moon Lee and Michiko Nishiwaki! I took on the onerous duty of having to look after Moon and we were becoming very buddy like as she was confessing to me that her marriage wasn't going so well and that she was happy to be doing this to get away from him for a while. I was providing a tender shoulder to cry on - just as much as she wanted. Michiko on the other hand was showing me complete indifference and seemed pissed off that her career had come to this. Unfortunately, just as Moon and I were going off somewhere I woke up and as hard as I tried to pick up the thread of the dream again I couldn't. I had high hopes.
I decided to hop on over here on my way to the Pusan Film Festival to see some films at the Hong Kong Asian Film Festival - they have a great line-up but it appears that everything is already sold out! So I will have to get by on what is showing around town - never a bad thing in Hong Kong. Ang Lee's Lust, Caution just opened as did The Detective with Aaron Kwok and today I saw The Sun Also Rises from Jiang Wen. I'll try and put together some coherent thoughts on it later but it is a visual feast with some really imaginative scenes that will make you tingle - but it's not the easiest film to make sense of as it is divided into four segments that connect but not in a clear way. I am not sure he meant it this way but the segments struck me as going in style from fairy tale into morality play into parable into allegorical fable.
There is some celebrity gossip in the newspapers as well - always love that. There is a huge industry in Hong Kong in importing Filipino maids to do all the hard work in the households and no wealthy family could keep their heads up at a dinner party unless they had at least three or four running about. Tales are legendary of how they are often mistreated and having to work insane hours. Now it appears that two of my favorite actors are two of the worst offenders - Jacky Cheung and his wife May Lo (an actress until marrying Jacky). According to the paper, they have fired 60 maids and make them work from 6 a.m to 1 a.m. six days a week and on their day off they only have to work till 11 a.m. and then from 7.p.m. to 1 a.m. The couple has now been placed on a list of banned employers and can't hire any more maids. What is poor May Lo to do now? We should start a petition to free May Lo from having to clean her own house.