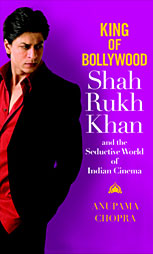 King of Bollywood: Shah Rukh Khan and the Seductive World of Indian Cinema

By Anupama Chopra
2007
222 pages
Hardback
$25

When you are the biggest super star in a country of some billion people that makes you by default one of the biggest stars in the world and Shahrukh Khan is most certainly that on every level. He has ruled Bollywood for over a decade and his enormous charm, high visibility and acerbic wit have created a bigger than life personality that goes well beyond his screen persona. This biography from Anupama Chopra is a terrific read as she unveils various layers of his life and details his steps to stardom. It often reads like a Bollywood movie in which the hero overcomes all the obstacles in his path to become successful and to win the girl of his heart. To a large degree this describes Shahrukh's life as he grew up a lower middle class Muslim with no connections to the film industry and brazenly inched his way towards stardom and married his Hindi girlfriend against the wishes of her family.
What I found most fascinating in the book were the pages devoted to his life pre-stardom. His family came from Peshawar (now part of Pakistan) and his father and uncles were involved in the Independence movement in the 1940's but were part of a Muslim group that did not want the Muslims to break off from India. When events became perilous the uncles sent Shahrukh's father Meer to New Delhi to study and to keep him out of harm's way. After Partition the family was put on a blacklist in Pakistan because of their political sentiments and Meer was not allowed to return to Pakistan to visit family for decades. Meer graduated from university but never made much of his life on a professional level. He married Fatima in 1959 and in 1965 Shahrukh was born. Shahrukh grew up on the cusp of poverty – his father always barely keeping their heads above water and his mother pitching in. Early on he became a Bollywood fan and in particular like so many others at the time worshipped Amitabh Bachchan.
His father died when Shahrukh was a teenager and he was devastated by it. He began joining school theatrical productions – acting in plays like
Annie Get Your Gun
and
The Wiz
. He quickly became known for his dramatic and flamboyant acting style. In 1984 he met Gauri Chibba, four years younger than himself and a Hindi from a good family. They dated secretly for years because her family would never approve of this relationship from both a religious and a class perspective. After graduating from school Shahrukh was able to get some work in TV and had some success with a series called
Fauji
in which he played an army academy cadet. The show aired in 1989. His TV career continued and he moved to Mumbai to foster it. His mother Fatima who had encouraged him so much to pursue acting died in 1991 and never saw him become a star. He married his sweetheart that same year. And began his film career.
Around the events in Shahrukh's life, the author places it all in context to what is happening in both the film industry as well as in the country. The one criticism that could be leveled at the book is that it goes very easy on Shahrukh and is generally very uncritical of him. That may not be too surprising since the author is a friend of his as well as an insider in the industry and did not likely want to get on his bad side. She does allude a few times to his darker side – his fiery temper, his enormous ego, rumors of his homosexuality and his ability to hold a grudge for a long long time. One story of him harassing a reporter is priceless. Still, Shahrukh is clearly a hero in her eyes and that is the way he is portrayed in the book – a man who through sheer determination, a sense of fate and great confidence rose from humble origins in Delhi to conquer Bollywood and it is quite a tale.
Pictures from the Book –
SRK's grandfather, father, mother and sister