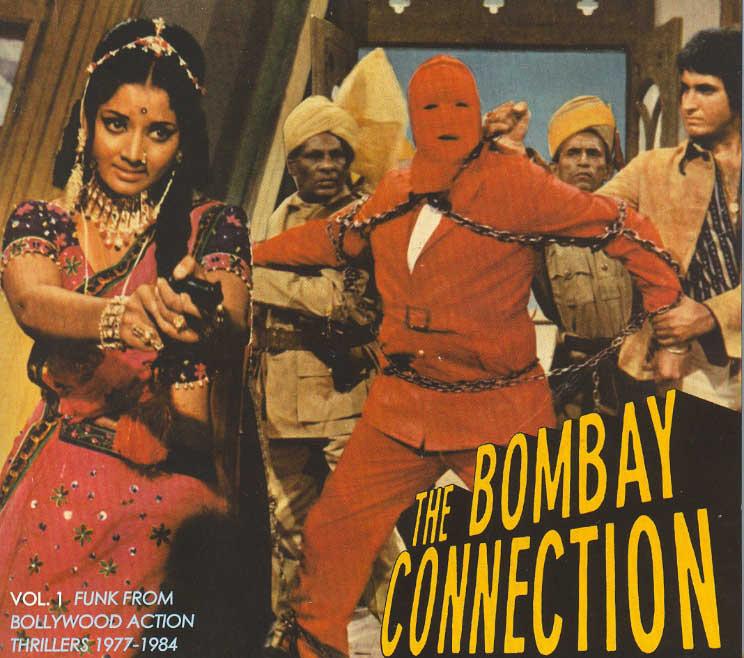 There are literally thousands of compilation CD's of Bollywood music staring you in the face with song titles and film titles that are often a complete mystery to most of us. I have taken a chance on some of these and thought I would share a few that I think are worth having. There is an emphasis here on older songs with a funky beat that appeal to me.
The Bombay Connection
13 songs (53 minutes)
This collection of songs was put together by two Bollywood enthusiasts from Amsterdam who used to rummage through second hand shops to find these obscure soundtracks and fell in love with them. These songs are all from action films from 1977-1984 and have a totally funky feel to them. Many of the films are obscure and I could only find a few on DVD, but the songs are from some of the masters – R.D. Burman, Kalyanji-Anandji, Laxmikant-Pyarelal and Bappi Lahiri and great vocalists – with Asha Bhosle and Mohd. Rafi among them. Beginning with some dialogue "Hello Hello Calling Bombay XYU" it immediately dives into funkadelicious horns, vocals, synthesizers and drums. The authors also include an informative booklet on the composers and the films covered – with a few very cool pictures.
The Bombay Connection Vol. 2 – Bombshell Baby of Bombay
12 songs (51 minutes)
The Dutch duo return with an even more eclectic and fun collection of songs from the 1950's through the 70's with a focus on nightclub songs that were highly influenced by Western rock and roll. The voice for many of these was Asha Bhosla who could purr, yelp or anything else to make these songs buzz with energy. Many of the songs seem only influenced by rock and roll rhythms while other ones like the delightful Pretty Pretty Priya could almost be mistaken for a song from the Herman Hermits (though it came some six years later) or Bombshell Baby of Bombay – sung in the film by an Elvis impersonator turbaned Sikh – could easily have fit into the classic rock and roll film The Girl Can't Help It.
Both of these CDs are heaps of fun with many discoveries and providing inspiration to track down many of the films from whence they came.
Pictures
Doob Doob O'Rama 1 & 2
16 (58 minutes) and 21 (56 minutes) songs respectively
These two collections of songs all seem to come from the 1960's and 70's and the focus seems to be on fun catchy fast stepping tunes. The first volume lists the songs and singers but not the films they come from – though I know the classic Jaan Pehchan from Gumnaam, Piya Too Ab To Aaja from Caravan with the classic refrain "Monica my darling" and the smooth vocals of Mere Sapnon Ki Rani from Aradhana. Other songs such as Baat Zara Hai Aapas Ki are just silly fun with the duo cooing to each other in English or Moonram Pirai moaning at the beginning of Ponmeri.Lata, Asha, Mohd. Rafi and Kishore Kumar feature frequently.
The second collection is bigger and even better which again primarily features the vocals of Asha, Lata and Kishore Kumar – though this could probably be said about any collection from that period. This CD lists the title of the film – among them The Train, Love in Tokyo and Howrah Bridge (the charming Mera Naam Chin Chin Chu that helped push Helen into stardom) and Upkar. The songs from this collection are more tuneful and many of them sounded familiar even if I hadn't seen the film. Both CD's are excellent.
Covers
Selections Vol 1
Selections Vol 2
The Kings and Queens of Bollywood
14 songs (72 minutes)
The Kings and Queens referred to in the title of this CD are Lata, Asha, Rafi and Kishore – and all the songs are from their days in the 1960's or in 1970. It is a great collection of rocking songs with the first two bringing down the house – One, Two Three Baby and Roz, Roz, Roz. I lent this to a friend and it turned him into a Bolly funk music addict. This collection is frenetically playful and a constant treat of odd ball but catchy songs. One of my favorites. Be prepared to do some head shaking.
Cover
Selections
The Very Best of Bollywood – Vol. 1 & 2
Titling your CDs the "Very Best" sets you up for a big fall, but even if that is debatable – and isn't everything – it would be hard to argue that these CD sets don't have some terrific songs – in Vol 1 more so than the second volume. There is no particular theme or time period for these selections as they range from the 60's to 2000.
Volume 1 contains 15 songs for a running time of 76 minutes and among the classics are more recent songs from Dil Se (what else but Chaiya Chaiya), Kuch Kuch Hota Hai and Diwale Dulhania Le Jayenge to older tunes from Bobby (the lovely ballad Main Shair to Nain), Sholay and Kabhie Kabhie to the disco tinged Aap Jaisa Koi from Qurbani. The only song that has no right squatting on this CD is the most recent – the so-so Na Tum Jano Na Hum from 2000's Kaho Naa . . . Pyaar Hai.
Vol 2 contains 15 songs as well for a running time of 70 minutes. It isn't nearly as strong as the first volume but still has its share of classic songs along with a few duds. It begins with Chalo Chale Mitwa from Nayak which is a fine song but there are certainly better even from the same film. The next few choices all feel a tad conservative and slow and the CD doesn't really hit its stride till Chura Liya which always brings back images of Zeenat Aman in white with a guitar in hand. Other classic songs are from Teesri Manzil, Andaz (1949), Sholay and Qayamat Se Qayamat Tak. Overall though this one could be skipped.
Cover 1
Selections
Cover 2
Selections
Bollywood – The Rough Guide
15 songs (74 minutes)

This is a strong selection of songs from the 1960's up to the 2000's with little blurbs on each song. Beginning with the classic chords of Dum Maro Dum (Hare Krishna Hare Rama), the CD traverses through songs from Caravan, Kabhi Kabhie, Kati Patang, Sholay and Qurbani till it jumps into more modern tunes from Bombay, Dilwale Dulhania Le Jayenge, Kuch Kuch Hota Hai and Phir Bhi Dil Hindustani. Some of the songs are on some of the previous CD's covered here. The CD's intention is to introduce Bollywood music to the West and it's hard to argue with many of the choices – in fact many of them would be on my compilation CD. But quibble I must – two songs seemed to be throw ins – one from Kaho Naa . . . Pyaar Hai (how do songs from this film keep getting into best of CDs I wonder?) and Jaadu Teri Nazar from Darr. Otherwise and even with these two, this is a terrific CD for newbies.
Cover
Selection
I am not one to normally suggest downloading music and in fact can honestly say that I have never downloaded songs or films - partly out of ethics, partly out of laziness. But here is a site that temps me mightily - a fellow who has put up literally hundreds of old Bollywood songs that are obscure and hard to obtain. But this reminds me of a fellow who came up to me at the festival this year and told me that he had seen every film in our festival! I was thrilled until he added - by downloading them all from the Internet. He basically used our festival as a guide to good movies. I guess I should be happy that he trusts our judgement so much.
Music from the Third Floor