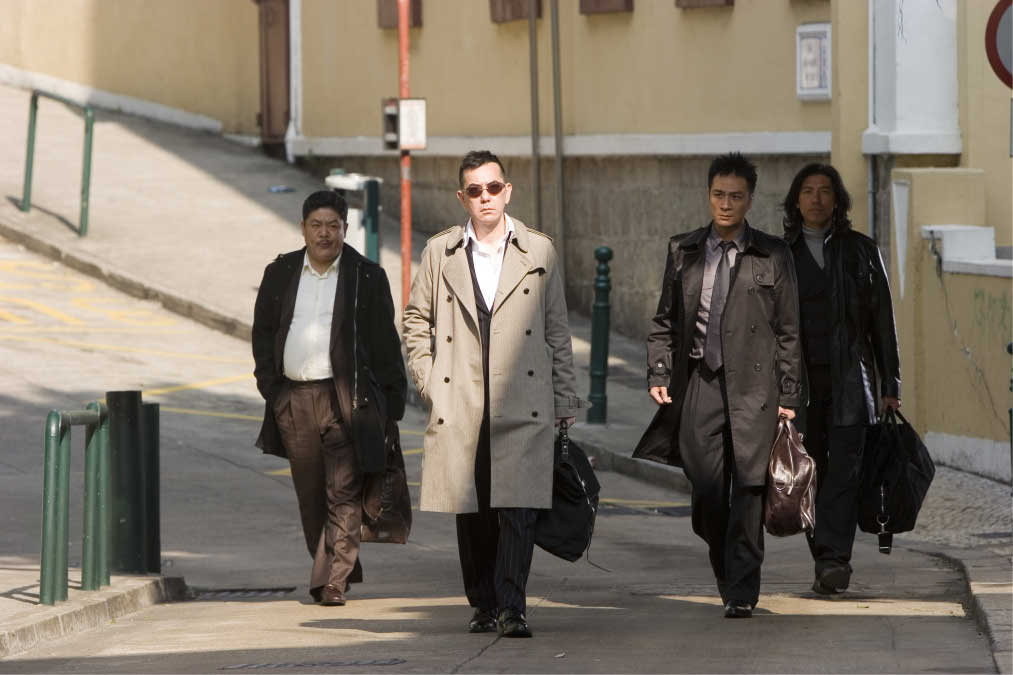 The first weekend is over and all is good in the world.
This is our first year showing the festival at IFC on 6th Avenue and 3rd street. It is a more interesting area than I had thought before. We set a table up outside to answer questions, give comp tickets to people and help publicize the festival. I was primarily asked directions to Bleeker Street. It is a neverending stream of humanity walking by of all shapes and sizes, colors and costumes, sexual orientations, different languages and accents - it is NYC at its finest and strangest. I've told some people that this show is better than some of our films and it doesn't cost a dime. With the Gay Pride Parade on Sunday it particularly took on a whimsical flavor and I had no idea there were so many Latina teenage lesbians as the front of the theater seemed to be the agreed upon meeting place.
Anyway, the festival. It went great. We had sell outs or just missed them by a hair for The Banquet, Dasapo Girls, Hard Boiled, I'm a Cyborg, Hula Girls and just a little more than a hair for Exiled. I'm a Cyborg has also already sold out for the second show and we are hoping to add a third but that may be iffy. I think I am a bit amazed at how quickly it sold out - faster than Godzilla from 2 years ago.
The director from Dasepo Girls, E J-Yong, was here and turned out to be a funny self-deprecating guy who loves musicals and wants to make a really big one someday. One of the questions to him in the Q&A was how well Dasepo Girls had done at the box office in Korea. "Ooo - not very good". After his previous film, Untold Scandal, he said the moneymen were very happy, not so much after Dasepo. In fact, he went on to say that in an internet poll in Korea, Dasepo Girls came in dead last. Second to last? I'm a Cyborg. He congratulated the festival for bringing the two least popular films from Korea last year! But they both sold out and people loved them. Just between you and me, I am not a big advocate of Dasepo Girls - it felt like it kept missing the punch line and I kept expecting to laugh a lot more than I did. Much to my chagrin I went against the golden group rule that I created - never say No to a film featuring Asian school girls. What was I thinking? Never again. All films like this are welcome. It has never failed us - Bounce Ko Gals, Linda Linda Linda, Hana and Alice and Kamikazee Girls all did great. We will see how Yo-Yo Cop Girl does.
There are a few films in this festival that I have not seen. The way it works is that all of us have an equal vote and try to watch every film - but with well over 100 of them that gets difficult. So if a film has already been voted down by a majority of the group I won't bother and if a film has already been voted in I figure I might as well wait to see it on the big screen. This was the case with Johhny To's Exiled. I am so glad I did because what an experience seeing this in a totally appreciative crowd who applauded during the opening credits when To's name appreared and even bigger applause when the cast names came up - especially Anthony Wong and Simon Yam. I felt like I was reborn into HK film again. A near perfect film of astonishing tense shoot outs and simple killer cool. To builds tension like Hitchcock did - one small move at a time. Just remarkable.
And for kicks (and to please our sponsors!) we showed
Hard Boiled
. To a sold out show. People ate it up. It is admittedly beginning to show its age a bit - and if you compare it to the tight sleekness of
Exiled
it feels bloated but the final hospital shoot out is still perhaps the best put down on film and you can see such future stardom in Tony Leung' s coiled nuanced performance.
Oh - and we added Jackie Chan's Crime Story - one show on July 5th at 7pm. This is one of his less known but absolutely better films as director Kirk Wong keeps Jackie from being mugging Jackie but still allows him to show his incredible physical skills.
The Audience Award balloting is well under way and for the most part everything has done very well. This year we are just asking people to rate the film on the brns.com scale - 1-10 with 10 being a classic, 5 being average and 1 was so painful you would rather have passed a kidney stone. And we have had a couple one's! I feel bad for those people, but not so bad that I would give them their money back! A couple of the films have had really diverse voting patterns with lots of 10's and 9's and also 3's and 4's - which only shows how differently people see the same film at the same time in the same theater. But some have had consistently high 8-10 ratings - Getting Home (one of my favorites in the fest), Exiled (pretty much loved by everyone) - but the leader so far is Hula Girls. 40% of the audience gave it a 10! By now I have come to expect our Audience Award Winner to be either a feel good film or a sentimental film and this scores big on both counts. It had people crying and laughing throughout. It shows again next Monday.
After this Our Exile
on the other hand had people coming out looking like we had hit them with a stun gun - just exhausted and beaten up. For some it was too much pain, but for the majority it was almost a cathartic experience and they thanked us so much for bringing it. It shows again on Sunday. The Asian-American Festival which takes place from July 19-July 28 will have a focus on Patrick Tam and will be showing this film as well as two of his classics - Nomad and The Sword. He will be present. The Sword is dazzling, but have never seen Nomad.
Here
is a link to their site.
And one last word for Miracle on 1st Street. It played last night (Monday) and I was a bit concerned how the audience might react to it. It sort of sets itself up to be a feel good film and then proceeds to slam you over the head till it throws you a bone right at the end. Just how much misery could an audience take? Well it averaged 8.3 on the ballots so it's either a good film or we had a room full of masochists last night. I went in for five minutes and couldn't leave. My ex-Subway Cinema colleague Paul who hadn't seen it called it the best film he had seen so far. It will be showing at Imagination Theater later this summer but that was our last screening.
Here is one final write-up on the fest from Time Out NY
And many more days to go.