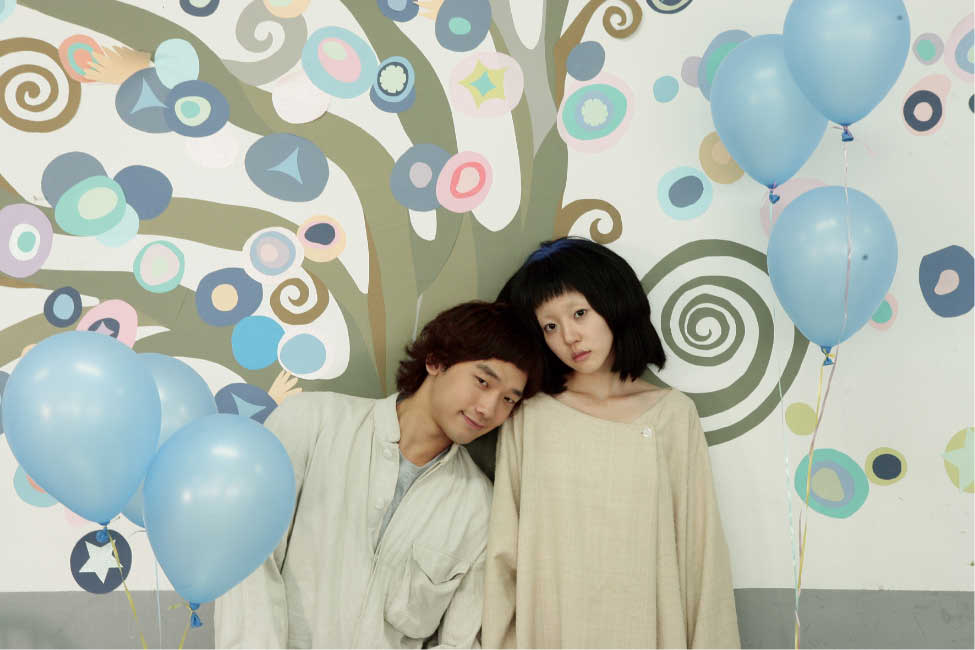 Or at least most of it. There are still another 2-3 films we hope to squeeze in by sucking in our stomachs and really pushing hard. All the distributors are in Cannes now though and so we won't get confirmation on those for a week or so. So this is what we have so far with tiny descriptions from Grady. Longer ones are on the way. The schedule is still not quite ready. Like I wrote the other day - it's not a festival for MENSA candidates but it should be a lot of fun.
AACHI & SSIPAK (Korea, 2006) - 8 years in the making, this sci fi animatedaction extravaganza about a totalitarian future where the government controls its citizens' bowel movements is refreshingly obscene and totally offensive.
AFTER THIS OUR EXILE (Hong Kong, 2006) ­ Wong Kar-wai's mentor, Patrick Tam, returns to directing after 17 years and delivers an astounding, award-winning, father and son film that's a popcorn muncher for those who love to watch other peoples' families fall apart. We will be showing the long version - 160 minutes!
THE BANQUET (China, 2006) ­ starring Zhang Ziyi and with the team that made Crouching Tiger, Hidden Dragon behind the camera (Tan Dun on music, YuenWo-ping on action, Tim Yip on design) this Chinese adaptation of Hamlet is highbrow brain candy.
BIG BANG LOVE, JUVENILE A (Japan, 2006) ­ Takeshi Miike's aggressivelyexperimental tale of two convicts falling in love is as beautiful as Jean Genet and as bloody as you'd expect from Miike. Oh, and theres a rocketship and an Aztec pyramid, too.
(Co-presented with JAPAN CUTS: Festival of New Japanese Film)
CITY OF VIOLENCE (Korean, 2006) ­ festival fave, Ryu Seung-Wan (Arahan, Cityof Violence), directed and co-stars in this pulpy, two-fisted noir flick with Korea's greatest stuntman and action choreographer, Jeong Du-Hong. It's a shout-out to Hong Kong action cinema of the 80's and features death by breakdancer.
CRUEL WINTER BLUES (Korean, 2006) ­ a rabid gangster heads to a small town to wait for the man who killed his best friend to show up so he can stab him to death. A three-way acting showcase that is exhilarating in its emotional intensity.
DASEPO NAUGHTY GIRLS (Korea, 2006) ­ E. J-Yong's musical about a high school full of perverted students is a cleansing blast of surreal smut that mixes Bollywood musical conventions with, well, porn.
DEATH NOTE & DEATH NOTE: THE LAST NAME (Japan, 2006) ­ Japan's box office one-two punch of 2006, these goth dramas are twisty cat n'mouse thrillers that feel like a net-savvy teenager has taken an Agatha Christie novel and forcibly cross-bred it with an Edgar Allan Poe short story.
(Co-presented with JAPAN CUTS: Festival of New Japanese Film)
DOG BITE DOG (Hong Kong, 2006) ­ Soi Cheang's insanely intense hitman flick is caked with grime and unfolds over the course of one bloody day and night.Welcome to the action movie as nature documentary.
DYNAMITE WARRIOR (Thailand, 2006) ­ the craziest martial arts flick you'll ever see, this unhinged movie stars Tony Jaa's teacher, Panna Rittikrai, as a scabby wizard and Dan Chupong from Born to Fight as a rocket-riding, 19th Century Thai bandit in a film that's one long, exhilarating action scene.
EXILED (Hong Kong, 2006) ­ Johnnie To's latest movie is a magnificent spaghetti western with a cast of Hong Kong's best character actors filling the island of Macau with enough hot lead to sink it beneath the waves.
FREESIA: BULLETS OVER TEARS (Japan, 2007) ­ another festival fave returns! Director Kazuyoshi Kumakiri (Antenna) turns in the ice-cold story of a near future Japan where revenge has become a licensed business, with professional hitmen committing murders that come with forms to fill out in triplicate. Chilling.
(Co-presented with JAPAN CUTS: Festival of New Japanese Film)
GAMERA THE BRAVE (Japan, 2006) ­ this kaiju for kids movie stars the Rocky Balboa of the giant monster world, Gamera, trampling major cities in his battle with an evil dino-lizard.
(Co-presented with JAPAN CUTS: Festival of New Japanese Film)
GETTING HOME (China, 2007) ­ the latest movie from Zhang Yang (Shower,Quitting) is a black comedy about a broke construction worker trying to take the corpse of his friend thousands of miles home so it can be properly buried. His method of transportation? Public bus.
HARD BOILED (Hong Kong, 1992) ­ a 15th Anniversary screening of John Woo's action classic celebrates the release of Midway's "John Woo PresentsStranglehold" the sequel to the movie in video game form. Travel back in time 15 years to an era when no one shook the camera around, Chow Yun-fat was a god, Tony Leung was a young punk and John Woo was the most amazing action director the world had ever seen.
HELL'S GROUND (Pakistan, 2006) ­ Pakistan's first gore movie is The Texas Chainsaw Massacre meets the Taliban, featuring a mace-swinging killer.
HULA GIRLS (Japan, 2006) ­ a laser-guided crowd-pleaser that rocked the Japanese box office and swept the Japanese Academy Awards. 1965. Huladancing. A gang of losers overcoming incredible odds. You know you want to see it.
I'M A CYBORG, BUT THAT'S OK (Korea, 2006) ­ the latest from Park Chan-Wook (Oldboy, JSA) is a fairy tale love story between a kleptomaniac and a girl who thinks she's a cyborg, set in a mental institution.
MEMORIES OF MATSUKO (Japan, 2006) ­ Moulin Rouge meets Citizen Kane in the latest movie from the director of Kamikaze Girls. Check your cynicism at the door and prepare to have your heart jump started.
(Co-presented with JAPAN CUTS: Festival of New Japanese Film)
NEVER BELONGS TO ME (Korea, 2006) ­ from the director of Teenage Hooker Becomes Killing Machine in Daehakroh this advanced art object is inscrutable, bizarre and head-scratchingly hilarious. Featuring a mutant offspring of a union between lady and tiger, a penis machine gun, ballet dancer fetishism and a robo-hooker built by Dr. Hell.
RETRIBUTION (Japan, 2006) ­ a downbeat horror film that reunites director Kiyoshi Kurosawa (Cure, Pulse, Doppelganger) and his favorite leading man, Koji Yakusho (Cure, Shall We Dance).
THE SHOW MUST GO ON (Korea, 2007) ­ fresh outta Cannes comes this Korean hit that stars Song Kang-Ho (The Host) in a bravura performance as a low level gangster trying to manage his family and his failing criminal career.
TRACES OF LOVE (Korea, 2006) ­ the opening film from 2006's Pusan Film Festival is a beautiful, wrenching melodrama about a man longing for his lover who died in the real-life Sampoong collapse in 1995.
There is also three programs of short Korean films - but not your typical boring ass short films that most festivals show. The NYAFF has partnered with Korea's Mise-en-scene's Genres Film Festival (MGFF) to bring over their award-winning horror, comedy, melodrama, sci-fi and action short films
Also a few directors are expected to make their way over for the fest:
Director E. J-Yong of DASEPO NAUGHTY GIRLS will be attending
Director Shusuke Kaneko of DEATH NOTE and DEATH NOTE: THE LAST NAME will be attending
Director Han Jae-Rim of THE SHOW MUST GO ON will be attending
Don't miss "From Lahore With Gore" a one-night-only Pakistani exploitation extravaganza on July 3rd! Featuring a screening of Pakistan's first splatter film, HELL'S GROUND, with the producer and director in attendance and a magical mystery tour of Pakistani exploitation cinema featuring highlights from some of its most infamous films.