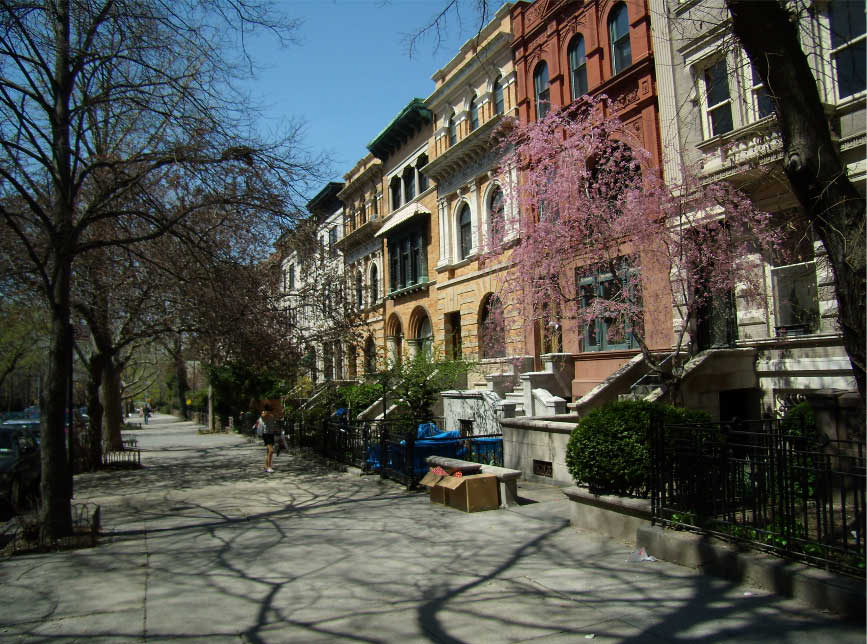 Spring has finally come to Brooklyn and it feels like everyone has shed 100 pounds of gloom. It is just glorious and in my opinion there aren't many better places to be than New York City in spring time. Of course, sometimes spring only lasts a few minutes before it slumps into summer heat so we like to enjoy it while we can.
Over the years I have had thousands of requests to know more about where I live – OK – actually not one but I know many were thinking it! Anyway, I felt like talking about my neighborhood just a little bit. As much as I loved traveling around Asia for eight months and living in hotels it is rather wonderful to be back in Brooklyn and once again ensconced in my small apartment – though every time I leave and come back I want to phone someone to ask why my bed hasn't been made up and why there are no fresh towels. That part is hard to get used to. But I live in an area of Brooklyn called Park Slope – it is called that for a very simple reason – at the top end is Prospect Park and then the neighborhood gently slopes down. The closer you are to the top, the more expensive it is – needless to say I live at the tail end of the slope hanging on for dear life. When I began living here a bunch of years ago there was a friendly crack dealer on my corner but now it is all very genteel with well kept brownstones, little shops, delis, antique stores, fruit stores and restaurants of every food choice you can imagine – not that I was ever much of a cook but living here you would have to be crazy to cook with Indian, Thai, Japanese, Peruvian, Mexican, Vietnamese, French, Italian and much more all within a few blocks. It also has a surprising amount of friendly people.
I ended up in Park Slope completely by accident after first moving to New York City with no job and $1,000 in the bank. For the first month I stayed in a cheap hotel on 43rd street and 8th avenue – the heart of Times Square – though back then it was more accurate to say the intestines of Times Square - and used to be kept awake at night by the gigantic cockroaches crawling on the linoleum floors and the shouting of the prostitutes who used the hotel for public relations purposes. The only place that I could find that was willing to rent to a simple boy with no job and no money was an elderly prim English lady named Ms. Cavendish who had lived through the bombing of London in WWII and had settled in Brooklyn. My apartment was the size of a large postage stamp, but it was in a beautiful brownstone and she took a great interest in her tenants – to the point where she would let herself in and clean my dishes. That was much appreciated but other strictly enforced rules such as no women being allowed were not so much. So I moved to my current place and have been here for longer than I like think about, but over the years I have seen the neighborhood transform into a lovely place to live (and most importantly see the value of my co-op shoot through the roof!) .
So this weekend I went out and took a few photos of
Park Slope
and
Prospect Park
and as I realized when later checking them out I was a bit foliage obsessed but it had been so long since I had seen any and it was such a welcome sight. Winter is over. I hope.