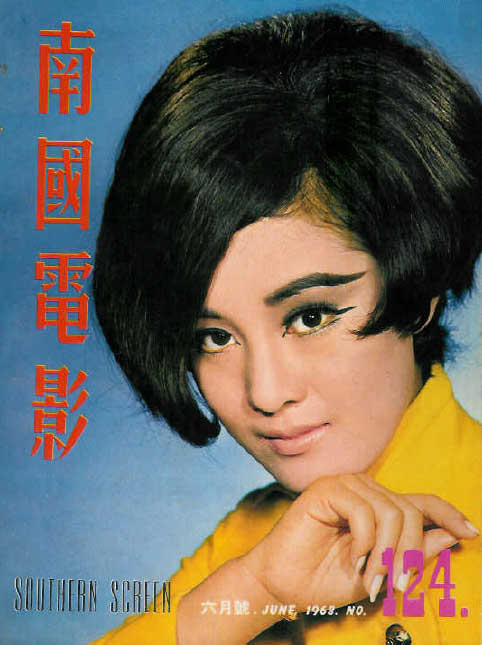 When Lily Ho first appeared in Hong Kong in 1963 for some publicity shots for the Shaw's home grown magazine Southern Screen, it was highly unlikely that anyone thought that someday she would come to epitomize glamour and style in Hong Kong films. At the time she was only 15-years old and was only one among a dozen new faces that the studio was promoting. She was also considered a bit plump at 5'5'' and 120-pounds, but was described by the magazine as "an adorable student". Born in Nanjing, China in 1947, her family like many others after the Communist takeover moved to Taiwan where she was discovered by director Poon Lui and brought to Hong Kong. Within a few years she would be a star.

In her first films beginning in 1965, she had smallish parts and often played spoiled haughty young woman or vamps in films like "Song of Orchid Island" and "Till the End of Time". Then she gained a fair amount of notoriety when she displayed her naked backside in her fourth film, "Knight of Knights" and it appeared that this image would become her calling card – generally a short-lived one until the public moves on to the next sultry sex siren. Even in her well received performance in the popular "Hong Kong Nocturne" she plays the bad daughter who moves away from home and ends up singing in a sleazy bar in Singapore. But during this time she was also growing a bit taller and losing weight and in the process becoming enormously attractive with her sleek but shapely figure, crinkly dreamy eyes and charming dimples. All of a sudden she was stunning and the Shaws needed to get her the right roles.

Her big break came in 1967 when a number of top actresses had to bow out of performing in "My Dream Boat" and the studio handed the role to Lily. This was a big melodramatic tearjerker that became a big hit and she in turn a star. She began to star in all sorts of films that were primarily vehicles for her - action (the "Angel with the Iron Fist" films, "The Lady Professional"), martial arts ("The Jade Faced Assassin", "The Golden Knights"), melodramas ("Sex, Love and Hate"), comedies ("A Time for Love"), capers ("The Venus Tear Diamond", "The Singing Thief"), musicals ("King Drummer", "The Millionaire Chase") and sizzlers ("Intimate Confessions of a Chinese Courtesan"). The only thing these films really had in common was that Lily exuded style, elegance and beauty unlike any other actress in Hong Kong.

She was in a sense representative of a modern westernized Hong Kong coming of age with chic, sophisticated women who could look like a million bucks and still run circles around you. Her films were full of costume changes and one of the delights in seeing her in her contemporary setting films was just to see what she would wear – always using vibrant colors, floppy hats, oversized sunglasses, bikinis and sleek evening wear. She set fashions and was in her personal life a huge consumer of clothes. In an interview she is asked what her hobbies are, her simple response "Clothes". How many furs did she have? "Full length, 9. Jackets, 5 and two stoles". She loved fashion and opened a boutique that she promised would keep Hong Kong abreast of the styles from Europe and Japan. There was a common expression at the time that went "Even Lily Ho wouldn't look good in those clothes". She looked good in every fashion from mod to frilly and her films flaunted this. She also looked great in a sports car and many of her films had her sitting in some sporty expensive model behind the steering wheel and behind her sunglasses with her hair blowing in the wind. Lily Ho was simply very cool and one of my personal favorite discoveries with the release of the Shaw films on DVD.
She retired on top in 1975 with 40 films to her credit and married a shipping magnate named George Chao. Her entire ten year career was with the Shaw Brothers – a complete in-house creation and one of a kind. She had a few daughters but unfortunately her marriage hasn't worked out so well – rumors of his philandering were rampant – and today she runs a restaurant in Shanghai.
Information for this was obtained from "The Shaw Screen" in an article by Edward Lam.
Picture above obtained from the
Ivy Ling Po forum
where other pictures of Lily and other Shaw stars are available to be viewed.
I went on a bit of a Lily Ho binge and watched these five films.
Tropicana Interlude (HK, 1969)

http://brns.com/pages4/shaw9.html
The Golden Knights (HK, 1970)



We Love Millionaires (HK, 1971)