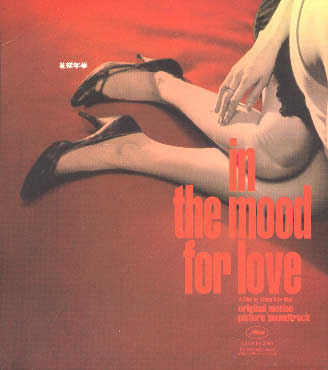 Not surprisingly, Valentine's Day slipped under my radar this year. It thankfully isn't that big a deal over here in Asia which may in itself be a good enough reason to move here some day. I think I read that if all the money spent on Valentine cards and chocolates were donated for research to the Mend a Broken Heart Foundation the period of depression following being dumped could be halved within five years. Though rather cheesy and obvious, I thought this would be a good time to list some of my favorite movie romances made in Asia.

First up are ten films from Hong Kong. Korea, Japan and India to follow when I get around to it.

Hong Kong:

Shanghai Blues (1984) – this Tsui Hark film is a rapturous, joyful, comic and romantic techni-colored splat in the face that will make you glow inside. Two strangers in Shanghai come together under a bridge during a Japanese bombardment and promise to meet after the war, but they are never able to see one another clearly in the darkness before they are pulled away. As fate would have it they move into the same building when peace has come but don't realize it – but in a film that is full of misunderstandings, pratfalls and a call to our humanity, love and inevitability lingers around the edges leading to a frantic and astonishingly satisfying romantic conclusion. Starring Sylvia Chang and Kenny Bee as the would-be-lovers and Sally Yeh as the dizzy and delightful roommate. Magnificent classic.

A Chinese Ghost Story (1987) – true love doesn't always end at the borders of life and in this marvelous classic fantasy a roving tax collector falls in love with a sad-eyed lady only to discover that his object of desire is a ghost. This doesn't stop him though and he willingly follows her into hell to save her soul. This film produced by Tsui Hark and directed by Ching Siu Tung is a masterful and magical ode to romantic love; a movie full of visual poetry, stunning imagery and wondrous story telling. The film rushes by in dream like hypnotic fashion – and when it ends one can only wonder how so much was stuffed into a ninety-minute film. Both Leslie Cheung and Joey Wong were never as beautiful and endearing as in this film.

A Moment of Romance (1990) – a classic bad boy/good girl romantic collision with an iconic Andy Lau role as the tough motorcycle triad unable to follow orders to kill the beautiful and very young witness played by Wu Chien-lien in her debut. Instead swooning love erupts with the inevitable tragic results shadowing them through musical montages and brutal beatings.

C'est La Vie, Mon Cherie (1993) – unless you are made of stone, this tragic tale of love and Hong Kong will tear a small hole in your soul. Two everyday people fall in love in a small neighborhood full of nostalgic fairy dust and quirky charm. It is joyful and wonderful and then the lights slowly begin to go out in their lives and you feel like you have been crushed by a truck. The performances from Lau Ching-wan and Anita Yuen rightfully made them stars.

He's a Woman, She's a Man (1994) – this is a divine and delightful cocktail of a film that fizzes with warmth, humor and romance. It is full of cross-gender confusion with one woman dressed as man, a woman falling in love with her assuming she is a man and another man falling in love with her thinking she is a he and wondering if he is gay. In the end it simply doesn't matter – love rises above all things so mundane. Leslie Cheung, Anita Yuen and Carina Lau play these three foils to comic and elegant perfection.

Chungking Express (1994) – one part deadpan comic heartbreak and one part romantic whimsy, these two tales of sly romance from Wong Kar-wai combine to make an enormously charming and joyful film full of hope and perseverance in all things love. With Tony Leung Chiu-wai, Faye Wong, Takeshi Kaneshiro, Brigitte Lin and Valerie Chow in the cast it is a charismatic assault on your senses. A masterpiece.

Lost and Found (1996) – poignant and magical, this film evokes an enormous mix of emotions from the viewer as it trespasses on perhaps the final days of a woman's life. It never dwells in sadness though but is instead a celebration of our short time on earth and of the people we meet and love. Not so much a romance as much as a lush romantic hopeful view of life. It stars Kelly Chan, Michael Wong and Taheshi Kaneshiro.

Comrades, Almost a Love Story (1996) - as pure a romantic sock to the heart as one could want as it recounts the lives of two Mainlanders (Maggie Cheung and Leon Lai) who come to make it in Hong Kong and who connect intermittently along a path of ten years of struggles, failure, relationships and love for the both of them. The final few mute minutes set in New York City will leave you with a sense of wonder, joy and a big old fist in your throat.
In the Mood for Love (2000) – drowning in lush, textured tortured romance, this Wong Kar-wai film slowly envelops you in its nostalgic mood, elegant cheongsams and curling cigarette smoke. The film is more mood than narrative as it elliptically shadows two characters and their adulterous love in a crowded apartment house in 1962 Hong Kong. It is filled with enough longing and loss to cover a life time of hurt. Maggie Cheung and Tong Leung Chiu-wai play the doomed lovers in fragments of images over time as they walk and breathe in tempo to the rhythmic hypnotic soundtrack.

Chinese Odyssey 2002 (2002) - this is another cross-gender tale of confusion that almost feels like He's a Woman, She's the Man meets Ashes of Time. As in most Jeff Lau films it is filled with nonsense and parodies, but underneath all the silliness is a big slab of romantic yearning, humanity and love. In the final line of the film, the male protagonist reveals his utter love when he declares "It doesn't matter who's the man and who's the woman" and it feels like all that needs to be said on the subject is just that. Tony Leung Chiu-wai and Faye Wong team up for the first time since Chungking Express and the magic is still there.