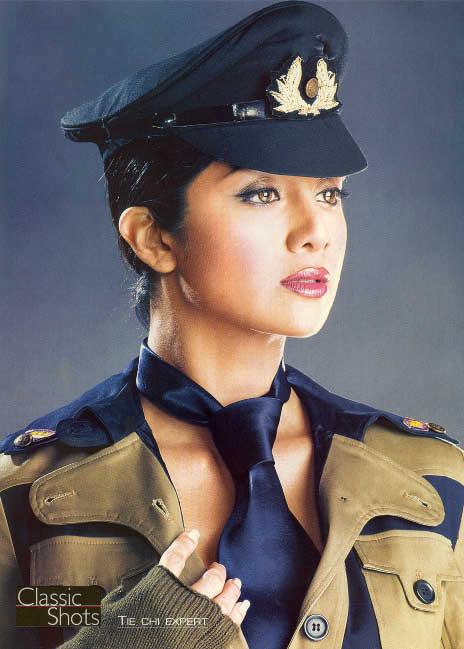 For those who were religiously following the mounting excitement on the late lamented
Kaiju Shakedown
regarding Bollywood actress, Shilpa Shetty, and her involvement on a U.K. reality TV show, the final news is in! And in fact it was front page news on a few English rags that actually call themselves newspapers. Shilpa has won by a landslide! Bollywood rules! India has gone into a state of utter delirium and has apparently closed businesses and schools for a week in order to celebrate national pride. Peace with Pakistan is next. This in fact may be the Indian Century. Next up for Shilpa is perhaps a run for political office or maybe even a decent film to be in.
Won what some of you may ask? Shilpa who others may inquire? Clearly the unknowing must be Americans who think their reality shows rule the world because the rest of the civilized globe was anxiously tracking every movement and moment of the U.K reality show
Big Brother
. Yes, I know we already have our own version of
Big Brother
over here – it's a reality show as well – but we call it the Bush Administration while on the other side of the Atlantic it is a reality TV show where a bunch of no longer in the public eye celebrities gather in a house to live together for 25 days of aggravation and public scorn and scrutiny – all televised for our voyeuristic culture to lasciviously follow. Some of the others in this peculiar ménage were singer Leo Sayer (anyone besides me remember him?), Jermaine Jackson and none other than legendary film director Ken Russell. This show made huge headlines and even made it into diplomatic circles because a few of the contestants made racially insensitive remarks towards Shilpa. I am not sure why the statuesque Shilpa who comes in at 5'10'' didn't just smack them down, but instead this behavior from others engendered a huge amount of sympathy for Shilpa and made her the winner. Before entering the house a few weeks back, Shilpa had this to say ""I want to clear out the misconception of Indian people. We are modern, intelligent and glamorous. I want all of India to be proud of me". And so they are Shilpa! Let me know when the DVD comes out.
Now to the who the hell is Shilpa Shetty question. She is still actually quite an active Bollywood actress though many may wonder the how and why of that. Beginning her career in 1993 with a film called
Baazigar
that shot her two co-stars to fame (a guy called Shahrukh Khan and a little known actress simply known as Kajol), but it didn't do much for her career. She is apparently not a bad actress and has been nominated more than a few times for awards but she has the bad habit of being in one flop after another and yet still has made over 50 films. More famous for her full figure and willingness to show these curves in tight fitting or revealing outfits than her acting, she shows up constantly in magazine glamour spreads. At one time a warrant was issued for her arrest for posing in an "obscene manner"!
Two films in which this 31 year-old actress is supposed to be quite good according to Internet sources are
Dhadkan
and
Phir Milenge
where she plays an HIV victim. Her sister Shamita is in the film business as well.
For those who even care, here are a load of pictures I scanned in of Shilpa from some magazines.
Shilpa 1
Shilpa 2
Shilpa 3