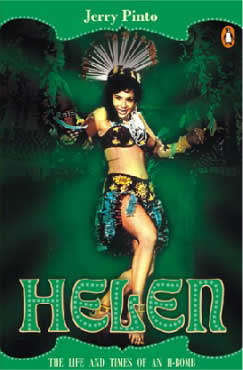 If you have become a fan of the Bollywood films from the 1950's and 1960's, chances are a lot of this may be due to an exuberant spitfire of a dancer simply called Helen. Her appearances in films should be marked with an exclamation point and a sip of a dry martini. With her hypnotic hips making suggestive come ons, a series of outlandish costumes that would make Elton John and Madonna envious, flashing spinning dazzling footwork and a "don't turn your back on me" grin, she came to symbolize everything that made those films so fun, so campy, so fab, so sublime. No one even seems to know how many films she appeared in - somewhere between 500 and one thousand perhaps - occasionally as the heroine, sometimes just as an item dancer to give some quick pizzazz to the film and most often as the vamp who trawls through the bright sparkly cabarets, shady dingy dance halls, gaudy designed hideaways and our imagination. She is a jolt to our pleasure glands. A happy pill.
This book from Jerry Pinto is a hymn to her - a thank you for all the hours he spent watching her in the movie houses and on TV. As he admits upfront, he has little to add to the small amount of knowledge about her personal life - she is a very private person and refused to be interviewed by him. So he relies on common knowledge about her and what he could find in the old gossip magazines - precious little. Her fascinating background is covered quickly in a few chapters and then he spends the remainder of the book writing about her films and her appearances in them - many many films! He approaches it not so much from a chronological perspective, but more from a thematic one - the different types of characters that she played over the years and what she represented to the audiences.
Though early in her career she got to play the heroine, it soon became clear that she much better fitted the role of the social outsider - the vamp, the woman gone wrong, the woman often destined to die for breaking all the polite taboo's of what a woman should do and be in Indian society. Much of this stemmed from her own status as an outsider. Born in the late 1930's, her father was French and her mother Burmese. By the time that WW II had broken out her father had died and her mother had married an Englishman, who then died in the war. When the Japanese invaded Burma, a very young Helen and her mother walked out of Burma into India where they settled down to a life of near poverty. One of her mother's friends was Cuckoo, a well-known female dancer in Bollywood films and the mother convinced her friend to mentor Helen in dancing and to get her work in films. She began as a chorus girl in the films, but got one of her first breaks playing a Chinese woman Chin-Chin-Choo in Howrah Bridge (1958) and the song she danced to became a huge hit - "My name is Chin-Chin-Choo, Hello Mister how do you do".
This was to become her m.o. - playing foreigners or Westernized women adorned with names like Ruby, Kitty or Miss Lily - and dancing in some of the best songs ever written for the screen - often accompanied by the throaty vocals of Asha Bhosle. Pinto conjectures that being a non-Indian allowed her to play the immoral and sexually liberated vamps that she did - the audiences could accept that from her. It certainly stood her well if that was the case - her career zoomed through the 60's into the 70's (Don, Sholay) to finally come to a slow halt in the 1980's (into her 40's at that point and still kicking her heels up better than most) when she became the second wife of script writer Salim Khan (father of Salman Khan). Over these years and still continuing she managed to become an icon, a cult figure, everyone's favorite dancer.
Besides of course detailing many of the films of Helen, the book also allows the reader the opportunity of putting together a wish list of many films that sound great - not the classics we all have read about too often but the B-ish films full of smoke filled rooms, revenge, betrayal, detectives, wanton women and spies - and of course Helen. These are the films that make me keep coming back for more.